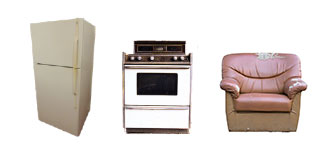 If it doesn't fit in your garbage cart—don't force it! Bulky items such as furniture and appliances are too large and too heavy for garbage carts. But that's not a problem!
A little planning is all you need to properly dispose of large items and help keep our community clean.
Wether you are a resident or business, East Bay Sanitary offers convenient and free options for proper disposal of large items. Learn all about the options available to you on our Free Pick Up page.